CLDP Opens Doors to Big Opportunities
What are the program dates?
Once accepted into the program, fellows will work with MPAC staff to apply for and secure internships/fellowships on Capitol Hill. The program itself lasts approx. 10 weeks, from Memorial Day through August 2nd.
Can i choose my own internship?
CLDP does not restrict you from pursuing internships with preferred congressional offices on your own.  As placement isn't guaranteed, MPAC staff works closely with fellows to prepare application materials and facilitate application submissions.  Where preffered offices don't work out, we utilize our relationships with offices in need of interns to help secure placement.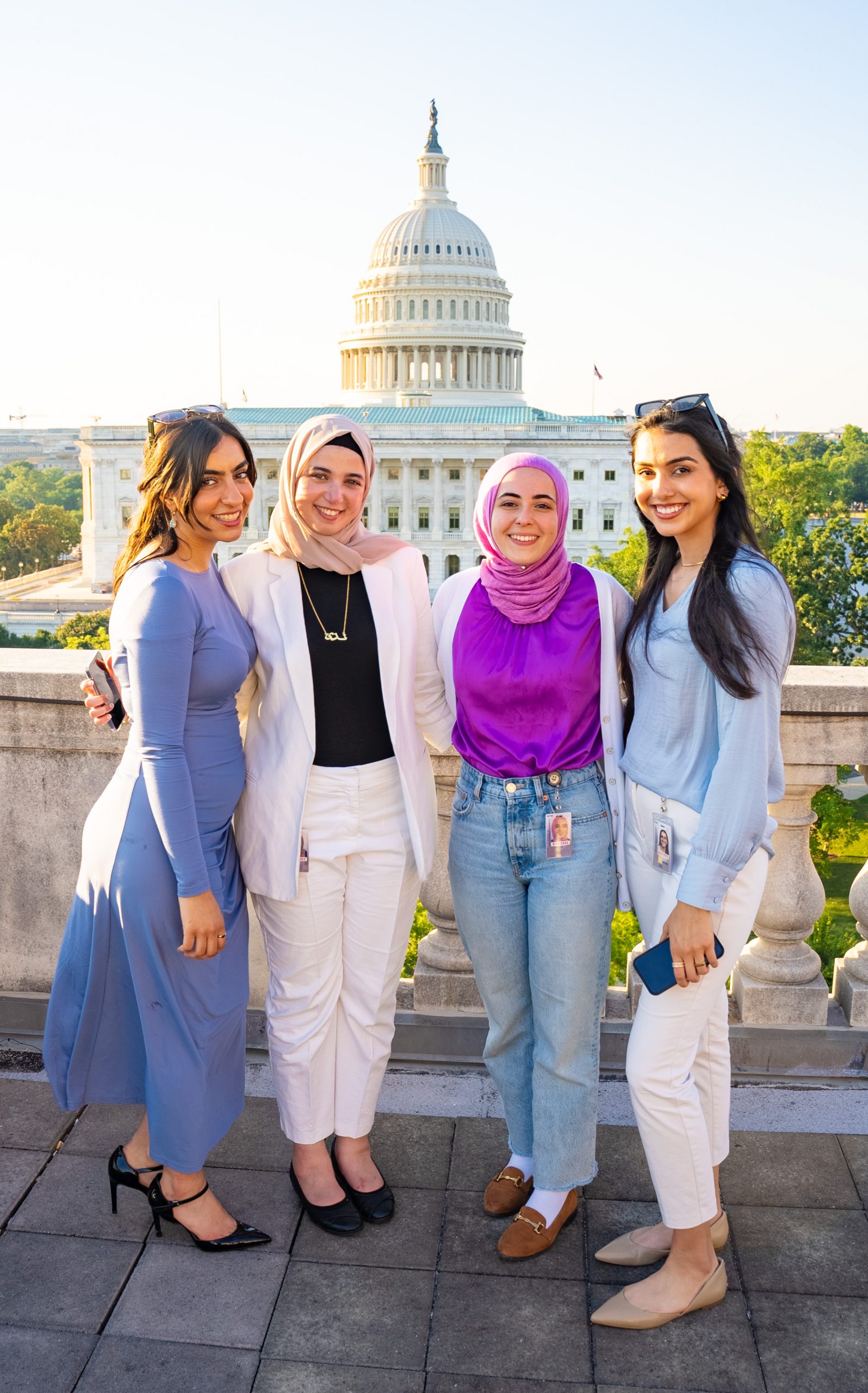 Fellows and staffers with Rep. Andre Carson in the US Capitol for MPAC's 2021 Eid on the Hill.
What benefits does the program offer?
A generous stipend
Free housing
Placement in Congressional office
Application material consultations
Pre-program guides and preparation
Comprehensive orientation
Policy and professional development  curriculum
Invitations to events around the city
Mentorship program with Hill staff and alumni
Access to our alumni networking platform
Post-program job/internship placement support
Months before the program begins, fellows participate in a one-on-one consultation with the Program Manager. This meeting will enable MPAC to get a better understanding of fellows' policy interests, the congressional offices they are particularly excited about, and what they hope to achieve from the program. Here, fellows will also map out a strategy for the offices they will be applying for and how to best prepare for their experience. MPAC provides templates for resumes, cover letters, writing samples, and references as a guide for preparing application materials.
Over the course of two weeks, fellows will work with MPAC staff to revise and edit application materials to prepare for submission to internships and fellowships on Capitol Hill.
Application Submission & Placement
Once all application materials are prepared, CLDP fellows and MPAC will send out applications. MPAC will follow up with the offices applied for to ensure the placement of fellows in their desired offices.
Living in DC + introductions
Once your placement is complete, MPAC provides CLDP fellows with information on housing, living in DC, and guides on excelling in congressional internships. MPAC will also facilitate the logistics and introductions of fellow to one another.
The day after move-in day, orientation officially begins. During orientation, fellows will speak with advisors and MPAC staff about strategies for networking and how to behave and succeed in internships. MPAC organizes team building activities and tours of Washington, DC as part of the orientation.
10-Week Internship Begins
After orientation, all CLDP fellows participate in a 10-week internship/fellowship program with a Congressional office that can include Members of Congress in the House or Senate, Committees, and Caucuses. Throughout these 10 weeks, CLDP fellows will participate in a substantive curriculum advancing their knowledge of various policy issues.
Networking:

MPAC shares various opportunities around the city for networking, social events, and policy briefings. We encourage fellows to network while they are in DC. We also help facilitate introductions to professionals who work in the space of our fellows' interests.

Guidance: MPAC maintains communication with each congressional office a fellow is placed in to receive feedback on the fellow's performance and provide guidance on opportunities for improvement.
Communication: MPAC stays in contact with fellows through WhatsApp, email, phone, and in-person to guide fellows throughout their experience and answer any questions they have.
Career planning: MPAC helps fellows in considering future career plans after completing the program by providing support with post-program job and internship placements. We do this by reviewing applications, identifying opportunities, developing and mapping career plans, making connections, recommendations, and flagging applications.
After completing the program, all CLDP fellows are integrated into the MPAC alumni network which provides networking and mentorship opportunities amongst all MPAC alumni. This network was created for alumni to organize and communicate in issue specific groups, as well as to share information about events and job listings.
"…it is a different and unique place that forces you to learn things extremely quickly; a Hill internship describes what government really is – much better than AP Government class."
Muslim or an active member of the Muslim community
Undergraduate student (incoming junior-senior), graduate student (including PhD, JD), or a recent graduate (within the last year) of an accredited university in the US
Maintaining a minimum 3.0 Grade Point Average
A US Citizen, Permanent Resident, or DACA recipient
What makes a competitive application?
At its heart, the CLDP program strives to both prepare and empower the next generation of Muslim leaders. With that in mind, it's essential that the application committee understands what steps you have taken in the past and continue to take moving forward to becoming a proactive leader.
Successful applications showcase three things in particular:
The applicant's experience in policy, government, and community
A clear goal of future public service ambitions
How the applicant's Muslim identity is a catalyst in why they hope to serve in places like Washington D.C.
What are the important deadlines and dates?
Applications are due January 8th at 11:59pm

Apps will be reviewed and interviews scheduled on a rolling basis

beginning in December, with acceptance offers issued shortly after.
Does CLDP provide financial support?
Yes. CLDP provides every fellow with a $3,000 stipend and free housing for the duration of the program. The stipend allotment is dependent on successful participation in the program and meeting all program requirements.
Fellows can expect to live in Washington D.C. in a metro accessible location. Housing will be dorm style, and fellows should expect to have roommates.
I have no experience living in Washington D.C. Will we be given an orientation to the city?
Absolutely! We understand this may be the first time you have been to Washington, D.C., or the first time you've left your comfort zone. We will have a survivor's guide to D.C. ready for you, and CLDP staff will be on hand to guide you, mentor you, and even have coffee with you. Beyond that, we will spend ample time during orientation to fully address all of you questions and concerns.
What kind of clothing should I bring?
Your internship will require you to wear business clothing on days Congress is in session and business casual clothing when Congress is in recess. For all CLDP events we ask that you come in either business professional or business casual clothing (we will specify for each event accordingly). For any further questions, reach out to your offices and they can best assist you with the atmosphere they foster. You may also be invited to internal and external special functions throughout the fellowship that may require formal wear so be prepared for such events.
Bunyad Bhatti, Congresswoman Sheila Jackson Lee
"CLDP is like an incubator for different policy-related careers, you don't have to run for office to gain something valuable."
Amira Daugherty
2019 Cohort